Threat to cut electricity to Afghanistan's central jail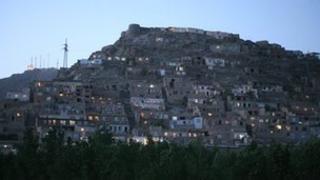 Afghanistan's national power company says it will cut the electricity supply to the main prison unless it pays its overdue bills in the next few weeks.
Da Afghanistan Breshna Sherkat says it is contemplating similar action against several government departments which have also failed to pay bills.
The company manages the generation and distribution of electricity across Afghanistan.
It estimates it is owed approximately $40m (£25m).
The finance director of Breshna, Mirwais Alimi, told the BBC that the central prison was among its worst clients. He said the ministory of justice owes it $2.4m (£1.5m), most of which goes to central prisons.
"We have decided to cut the electricity of the central prison during the daytime to send a message," Mr Alimi said.
The director of Kabul's central prison, Gen Amir Mohammad Jamshidi, said he was waiting for the finance ministry to clear the prison budget. He said the prison will soon clear its outstanding debt.
'Budget constraints'
Mr Alimi says the company is also owed money by the offices of several provincial governors and police chiefs and would consider cutting electricity to those offices should they fail to pay their bills.
Mr Alimi said the ministry of justice, which administers the prison, and the ministries of information and culture, higher education and communications were the other big defaulters.
He said that the city government of Kabul and the state-run Radio Television Afghanistan have also not paid for the electricity they have consumed over the past year.
Some of the defaulters have cited budget constraints but others blamed the country's bureaucracy for the failure to pay.
The Mayor of Kabul, Mohammad Nawandish, said the city delayed payment to Breshna as there was a dispute over some of the bills. Mr Nawandish said talks with the company were ongoing and he hoped the dispute would soon be resolved.
Officials at the electricity company say they have made regular appeals for consumers to pay their bills but most government departments have chosen to ignore their pleas.
The power utility said that in some cases it could not even take action against the defaulters as larger public interest was involved.
"We can't cut electricity to Kabul Water Directorate because it will deprive water to a lot of people," Mr Alimi said.
But Mr Alimi reserved praise for the defence ministry which it said paid all its bills on time despite being a big consumer of electricity.
Of the provinces, the southern province of Uruzgan was the worst performer while relatively secure provinces like Herat usually paid on time.