Burma releases 32 political prisoners in amnesty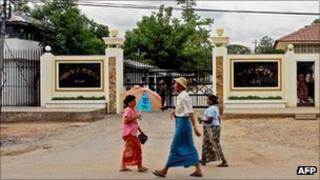 Burma's military-backed government has released at least 32 political prisoners, as part of a regular amnesty to mark independence celebrations.
It comes one day after the government announced widespread reductions in prisoner sentences.
Activists say no prominent dissidents serving long terms were freed.
The main opposition group has expressed frustration and disappointment at the limited scale of the amnesty for political detainees.
Most of those released were serving terms for criminal offences. The government released some 200 political prisoners last year.
The BBC's Rachel Harvey in neighbouring Thailand says that in recent months there had been rising expectation that another mass prisoner release was imminent.
In the event, the government reduced lengthy sentences to 30 years and cut shorter sentences by one quarter.
Our correspondent says that the issue of political prisoners is a key point of contention between the Burmese government and Western nations that maintain sanctions on the country because of its poor human rights record.
Political detainees include journalists, pro-democracy activists, government critics, monks involved in anti-government protests and members of Burma's ethnic groups fighting for greater autonomy.
Western governments have indicated that more needs to be done before sanctions will be lifted.