Philippine kidnappers demand ransom for Australian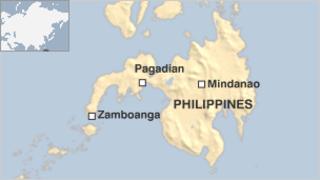 Kidnappers holding an Australian man in the Philippines have demanded $2m (£1.3m) in ransom for his release.
The message came in a video sent to the Filipina wife of Warren Richard Rodwell.
The retired soldier went missing a month ago from his home in Ipil town on the restive island of Mindanao, in the south of the country.
Officials say they believe he is being held by Islamist militants.
The Philippine military said that it believed Abu Sayyaf, an al Qaeda-linked Islamist militant group, was holding Mr Rodwell.
Police found bloodstains at the scene where the 53-year-old was taken on 5 December.
His house, which he shares with his wife Miraflor Gutang, is mid-way between Pagadian City in the north and Zamboanga in the south.
In photographs sent to his wife as proof of life three days before Christmas, Mr Rodwell was shown with a wound on his right hand, said Major General Noel Coballes, commander of the Zamboanga region.
In the video, Mr Rodwell appealed to both his family and the Australian and Philippine governments to help secure his release.
The Australian government has a longstanding policy of refusing to pay ransom for its citizens.
Major Coballes told reporters that the Australian government had set up a task force to assist Philippine authorities.
The Australian embassy in Manila issued a statement saying "the Australian government has not sent a negotiating team to the Philippines", AFP reported.
"Philippine authorities are taking the lead on responding to Mr Rodwell's kidnapping. Our embassy in Manila is working closely with Philippine authorities," the statement said.
Kidnappings for ransom occur periodically in the southern islands of the Philippines, with foreigners often the target. Areas within the region are used as bases by Islamist militants and rebel groups.