Malaysian court rejects overseas voting rights case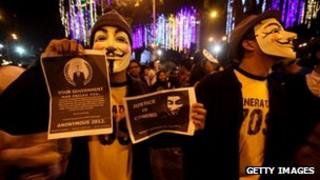 The High Court in Malaysia has rejected an attempt by citizens overseas to obtain voting rights.
Six Malaysians living in the UK took the country's Election Commission to court last year after it refused to register them as voters.
The court ruled that the decision was ''perfectly valid'', AP reports.
Under Malaysian law, only government workers, army personnel, students and their spouses are eligible to vote from overseas.
The six, who formed the My Overseas Vote group, filed a suit saying that the regulation was discriminatory.
However, the court described their bid as "ludicrous".
On its website, the group said that there were a million Malaysians living abroad, most of whom are in neighbouring Singapore (40%).
It also estimated that another 20% of overseas Malaysians are based in other parts of Asia.
Call for reforms
The Election Commission recently said it would consider all the voting rights of all Malaysians abroad, but did not specify when this would take place.
The government has been facing pressure for a more transparent electoral process.
In July last year, tens of thousands of citizens took to the streets in a rally to push for electoral reform.
The Bersih 2.0 protests, organised by a collective group of activists calling themselves the Coalition for Clean and Fair Elections, caused police to shut down the centre of the capital city, Kuala Lumpur.
The word "bersih" means "clean" in the Malay language.
Prime Minister Najib Razak has until March 2013 to call general elections, but it is widely expected that the country will go to the polls this year.
The ruling National Front coalition, dominated by the Umno party, has been been in power since independence in 1957.
It suffered its biggest election setback at the last polls in 2008 when the opposition coalition, led by Anwar Ibrahim, took a third of parliamentary seats.
Mr Anwar is awaiting the verdict on Monday in his long-running trial on sodomy charges - charges he says are politically motivated.