'Garbage bomb' kills six Afghan children in Tarin Kowt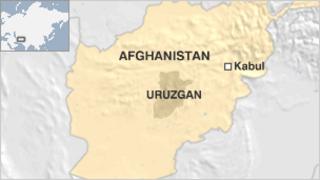 At least six children and a man were killed when a bomb hidden in rubbish went off in the Afghan province of Uruzgan, officials say.
Four other children playing nearby were hurt in the blast in Tarin Kowt. The bomb's intended target is unclear.
Meanwhile, Nato says five of its soldiers have been killed in separate attacks in southern Afghanistan.
In central Ghor province a policeman with suspected Taliban sympathies shot dead a senior police officer.
Friday afternoon's bomb blast in the Uruzgan capital is the third in a week in which children have been killed, the BBC's Bilal Sarwary in Kabul says.
"Explosives were hidden inside garbage in the Qalacha area of Tarin Kowt - as a result seven people were killed, six children and an elderly person," Farid Ayal, a police spokesman in Uruzgan, told the BBC.
Earlier in the day, two guards were killed and four others wounded when gunmen attacked a checkpoint belonging to a private security firm in Uruzgan's Bala Murghab district, police sources told the BBC.
Nato-led forces have been fighting the Taliban and other militants opposed to the Western-backed government of Hamid Karzai since 2001. Foreign forces are due to end combat operations in 2014.
Four Nato troops were killed in a roadside bombing on Friday, while a fifth "died following an insurgent attack", a statement said.
Another three Nato soldiers were killed on Thursday, also in the south.
'Rogue' policeman
In Ghor, a policeman opened fire inside district headquarters, killing the head of police intelligence for Sharak district before being shot dead himself, security sources told the BBC.
The policeman also killed a bodyguard for the Sharak police chief and a civilian who was present.
Intelligence sources in Sharak district told the BBC they suspect the policeman had links with the Taliban.
Members of the Afghan security forces have opened fire on foreign troops in the past, but our correspondent says this is thought to be the first time Afghan colleagues have been targeted in this way.