Afghan 'soldier' kills Nato serviceman in Zabul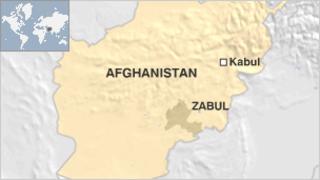 A man dressed in Afghan army uniform has shot dead a Nato soldier in southern Afghanistan, the International Security Assistance Force (Isaf) says.
Nato said a coalition service-member was killed in Zabul province on Sunday, apparently by a member of the Afghan National Army.
Afghan military sources said the Afghan man was then shot dead by Nato troops.
It is the latest in a series of attacks by apparently rogue soldiers, which have raised fears of Taliban influence.
This incident is said to have taken place inside an army base in Zabul.
"Right now, an investigation is going on to determine whether he really was a soldier or someone using an army uniform. And if he was a soldier, what caused the shooting," Afghan army spokesman Gen Mohammad Zahir Azimi told the Associated Press news agency on Sunday.
The last such attack was on 29 December 2010 when an Afghan army soldier shot dead two French troops.
Days earlier, an Afghan soldier opened fire on international troops in Herat province, wounding a number of coalition troops.
Nato is in the process of handing over security responsibility across the country to Afghan forces as international troops prepare to withdraw from Afghanistan.
The Afghan army has strict security screening procedures for its recruits, but there have been several incidents in which its personnel have fired on foreign soldiers.
Several such incidents were also later found to have been carried out by insurgents dressed in Afghan army uniforms.