Pakistani soldiers dead in ambush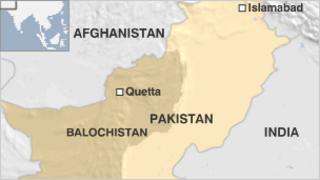 Fourteen Pakistani soldiers have been killed in an attack in Balochistan province.
A convoy of paramilitary troops was ambushed, security officials say.
"The attackers first fired rocket-propelled grenades at the vehicles and then opened fire on them," an official told Reuters news agency.
Balochi separatist and pro-Taliban militants are active in the region, in Pakistan's south-west, and both groups often attack government forces.
The incident took place in the Turbat district of Balochistan.
Fourteen soldiers were killed in an ambush in another area of Balochistan on 21 November, for which the Baloch Liberation Army claimed responsibility.
Baloch rebels have been waging an insurgency for decades, fighting for greater political autonomy and a share of the province's natural resources.