Tropical Cyclone Heidi passes through Western Australia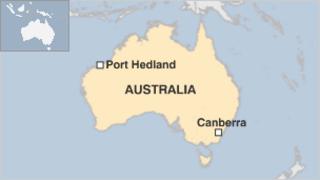 Tropical Cyclone Heidi left at least 3,500 homes and businesses without power after it swept across Western Australia, according to local media reports.
The cyclone has now been downgraded to Category 1 in the towns of Port Hedland and South Hedland.
But a red alert is still in place for some coastal areas.
Australia's largest bulk ore export facility at Port Hedland was shut as a precaution.
Cyclone Heidi packed winds of up to 150km/h (93mph) in Port Hedland, the ABC News agency reports.
'Getting smashed'
The storm made landfall at about 04:30 local time (20:30 GMT Wednesday), the Australian Bureau of Meteorology said.
Dozens of seaside residents were forced to leave their houses and hide in shelters after a flood alert was issued.
"We are getting smashed now, mate," Tom, who lives near Port Hedland, told ABC Radio.
"There is full horizontal rain and very high winds."
There were no immediate reports of any injuries of major damage.
Local officials say that Port Hedland - which exports some 240 million tonnes of iron ore a year - will remain closed until the storm passes.
Port official Steve Farrell said bulk ore carriers and other ships had been sent to safer waters.
"The last thing we want is for those vessels to break their mooring and run aground or cause damage, so it's always much safer for vessels and port to clear the vessels to safer water outside the cyclone area," Mr Farrell was quoted as saying by ABC.
Other regional ports serving the enormous iron ore mines in the regions are also shut.