Manhunt in Japan for first jail-breaker in two decades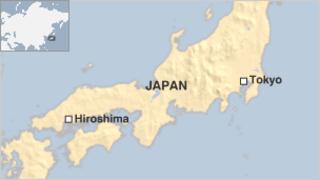 Police in Japan are hunting a prisoner who escaped in the city of Hiroshima, in Japan's first jail-break in over 20 years.
Li Guolin, a Chinese national, is serving a 23-year sentence for offences including attempted murder.
He broke out wearing only his prison-issue underwear, Japanese reports say.
Police have put him on the most wanted list, with train stations and parks across Hiroshima being searched.
Education officials in the city have also warned students to travel in groups to and from schools for safety.
Li, 40, went missing before roll call on Wednesday morning, said Japan's National Police Agency.
Nearly 800 police officers have been assigned to hunt for him, says the AP news agency.
Public broadcaster NHK said that he apparently escaped by climbing down scaffolding set up by a prison wall that was under renovation.
The 4.5m-high wall separates the prison from a densely-populated residential area in downtown Hiroshima.
Li is believed to be wearing only a set of white prison underwear, with the temperature at around 4C.
He was jailed in 2005 after shooting at an police officer and stealing a squad car, according to the police.
Tadaaki Nakagawa, a corrections official with the Justice Ministry, said the last escape by an inmate from within a Japanese prison was in 1989.