Afghan suicide bomb kills senior official in Kandahar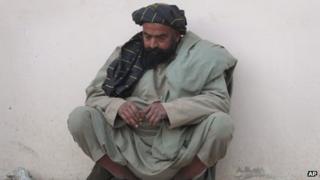 A suicide bomber in southern Afghanistan has killed a district governor who was considered to be an important figure in the peace process.
Sayed Fazuldin Agha, the governor of Panjwai District in Kandahar, was targeted by a car bomb.
Two of his sons and two guards were also killed in the attack.
A BBC correspondent says Mr Agha had recently persuaded several groups of Taliban militants to stop fighting and be reconciled with government forces.
The attack took place on a road between Mr Agha's home district and Kandahar city, in the Kobi area.
The bomber rammed a car packed with explosives into the vehicle carrying the district governor. Nine policemen and a civilian were injured.
Sayed Fazuldin Agha, who took up his position a year ago, was considered one of the most successful district governors in Afghanistan.
The BBC's Bilal Sarwary, in Kabul, says he was credited with bringing relative security to a once restive district, as well as bringing groups of Taliban fighters back into the government.
A number of government officials in Afghanistan have been assassinated in recent months by militants opposed to the Afghan government.
Kandahar's police chief was targeted by a suicide attack within the police building on Wednesday, but only the bomber was killed.