Pakistan's embattled government faces crucial tests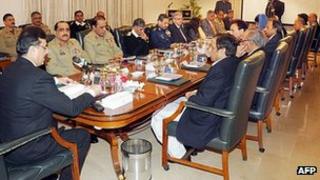 Pakistan's Supreme Court has begun a corruption hearing which could pave the way to dimissing the government, on a day of crucial legal challenges.
It is considering what to do about the government's refusal to reopen corruption cases against the president.
This comes at a time of political uncertainty, as a crisis continues with the country's powerful military.
A key vote on Pakistan's political leadership is also expected to be held later in parliament.
And another court hearing into a controversial anonymous memo which asked for US help to avert an army coup in Pakistan, in the wake of the killing of Osama Bin Laden in May 2011, has also resumed.
Prime Minister Yousuf Raza Gilani says conspirators are plotting to bring down his cabinet, without specifically blaming the army.
But correspondents say that things appear to have calmed down since this weekend's talks between the civilian and military elites, during which Mr Gilani described the armed forces as "a pillar of the nation's resilience and strength".
Pakistan has suffered three military coups since independence in 1947.
'Memogate' row
The hearing by the Supreme Court is considering the implementation of its recent order quashing a controversial amnesty, which had protected the country's senior politicians from corruption prosecutions.
A court deadline for the government to reopen cases of political corruption - including the one against President Asif Ali Zardari by the Swiss authorities - expires on Monday.
The government has so far refused to comply, but last week the court ordered government representatives to appear at the hearing to explain what they planned to do.
Separately, another court hearing is considering the so-called "memogate" scandal - into the anonymous memo apparently seeking help from the US to avert a possible military coup.
It is not clear who wrote the memo or conveyed it to Washington. US officials say they received the memo but took no action.
The scandal has already cost Pakistan's former ambassador to Washington, Husain Haqqani, his job. He denies any role in the memo, as does Pakistan's President Zardari.
The commission, set up last month, is expected to question government officials to try to establish whether they endorsed the memo, and if so, whether the cabinet can remain in power.
The findings of the investigation are due to be announced later this month.
At the close of a testing day for the government, Pakistani Prime Minister Yuusuf Raza Gilani's government faces a crucial vote of confidence in parliament in the country's political leadership.
Correspondents says the prime minister is likely to win backing, and that the lawmakers' seal of approval will probably strengthen his hand.