Probe into Nepal police station 'goat slaughterhouse'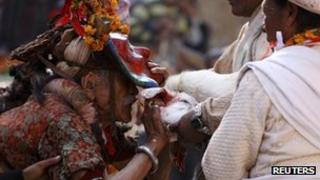 Officials in Nepal say they are investigating allegations that police officers operated an unofficial butchery service from their station.
Officers have been accused of slaughtering goats for members of the public at a station near Kathmandu.
Police told the BBC they are investigating media reports that the station premises had been turned into a "goat slaughterhouse".
The accused officers claim they were carrying out a community service.
The 10 accused officers are quoted by AFP news agency as saying that they were not charging the public for slaughtering the animals.
Nepali people traditionally slaughter goats at the weekend for meat.
"We know is that there was open space in the station and that could have been used for weekend goat-slaughtering," police spokesman Binod Singh told the BBC.
The officers are accused of taking goats from members of the public and killing and butchering them so that they could be sold.
"There was... easy availability of water in the police station. Goat meat was sold by locals from the police station area," Dhiraj Pratap Shah, deputy superintendent of Kathmandu Police, told AFP.
Correspondents say that junior police officers in Kathmandu earn just 9,000 rupees ($110/£71) a month and often supplement their salaries with second jobs.