India presses Sri Lanka on political reform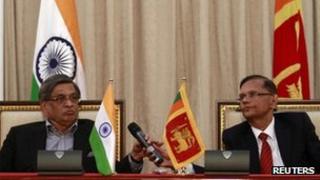 India's foreign minister has urged Sri Lanka to move forward with reconciliation and constitutional reform on a trip to the island nation.
S.M. Krishna said he hoped that the president would embark on "the quest for genuine political reconciliation".
Sri Lankan government forces defeated Tamil Tiger rebels fighting for a separate homeland in May 2009 after 26 years of civil war.
MPs recently received a report from a domestic inquiry into the war.
The Lessons Learnt and Reconciliation Commission (LLRC) was widely dismissed by international human rights groups. But the government insisted that it would get to the bottom of human rights violations that may have been committed during Sri Lanka's brutal conflict.
After the war, many observers argued that reform was a crucial ingredient for any kind of political reconciliation.
Reform recommendations
The BBC's Charles Haviland in Colombo says that India has been keeping an eye on ongoing talks between the Sri Lankan government and the biggest Tamil party - talks which may lead to constitutional reforms including substantial regional devolution, which the Tamil party wants given that the north and east are Tamil-dominated.
Addressing the media with his Sri Lankan counterpart, Mr Krishna said he hoped that Sri Lanka's President Mahinda Rajapaksa would use what he called his vision and leadership in "the quest for genuine political reconciliation".
He added that Colombo should move forward, now that its domestic war commission had made a series of recommendations on reform.
"These recommendations, when implemented, would mark a major step forward in the process of genuine national reconciliation. Sri Lanka must seize this opportunity," Mr Krishna said.
The Indian foreign minister said Mr Rajapaksa had assured him of his commitment to implement such devolution.
But Sri Lankan Foreign Minister G.L. Peiris did not confirm this, and said it was important to broaden the talks out to include all political parties, our correspondent reports.
India is generally supportive towards Sri Lanka, but sometimes makes mild criticisms of its smaller neighbour on human rights issues - influenced in part by its having an ethnic Tamil population numbering tens of millions.
Analysts say it is also in competition with China for influence in the island, and Beijing is currently funding a series of huge development schemes through loans.
Last year India's Congress Party president, Sonia Gandhi, said: "In our neighbourhood, there is no issue closer to our heart than the Sri Lankan Tamils issue."