Australia surfer badly injured in shark attack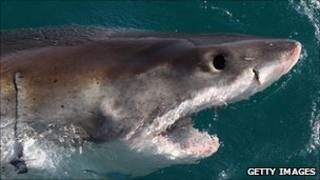 An Australian surfer has been seriously injured in a shark attack north of Sydney, paramedics say. It was the second such attack this month.
The man was attacked on Wednesday near Newcastle, 125km (80 miles) from Sydney. Witnesses believe a Great White or Bull shark was involved.
The surfer, 44, suffered serious wounds to his thigh and buttocks.
Australia usually sees about three shark attacks a year. They have caused 27 deaths in the last 22 years.
Medics say that in the latest incident, the surfer was bitten on the upper thigh and has large lacerations on his leg.
"He's currently in a serious condition and will be transported to John Hunter Hospital," an ambulance service spokeswoman told the AFP news agency.
On 4 January another surfer survived a shark attack in the city of Gosford, north of Sydney.
Witnesses said the shark "got on his board and just took a chunk out of his arm".
In October a Great White shark killed a US diver in what was thought to be the second fatal shark attack in Western Australia in 12 days.