Sri Lankan book festival gets under way in Galle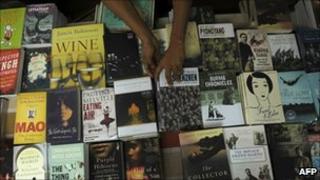 An annual Sri Lankan festival of books has officially begun, featuring authors from 10 countries and an enthusiastic audience of book-lovers.
Last year the Galle Literary Festival was the subject of a boycott call from some prominent writers. There has been no repeat call this year.
But campaigners are eager to highlight what they say is the patchy human rights situation in post-war Sri Lanka.
Critics say the festival is elitist and takes place in a "bubble" of unreality.
But organisers are relieved that there has been no new call to boycott the event.
Last year one writer pulled out at the last moment.
Sri Lankan novelist and festival curator Shyam Selvadurai says this year's programme counters critics who last year said that the event legitimised the government's suppression of free speech.
"We are doing a panel on reconciliation, a panel on trauma and literature and a panel on writing political realities into fiction," he said.
Mr Selvadurai said that a roster of authors at the festival specialised in troublespots like the Gaza Strip or Sierra Leone and included British playwright Tom Stoppard who he described as an "exponent of human rights and freedom of expression".
Also attending is Palestinian doctor Izzeldin Abeluaish, whose three daughters were killed in Israeli shelling in Gaza three years ago.
English Pen, a charity that promotes literature and human rights, said that the festival offers rare space for an open debate on rights issues in Sri Lanka, but also highlighted concerns about the rights situation in the country.
There has recently been a spate of unexplained disappearances in this country.
At Christmas time a British tourist was murdered in a resort not far from Galle and his girlfriend was allegedly raped.
Witnesses have identified a local politician from the governing party as a suspect.