Indonesia confirms second bird flu death this year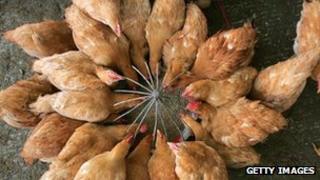 A five-year-old toddler has died from the bird flu virus in Jakarta, Indonesia, officials said on Thursday.
The H5N1 virus also claimed the lives of a man in Vietnam and of a toddler in Cambodia this week.
The three deaths bring the total number of avian influenza fatalities in the region to five in the last three weeks.
A man diagnosed with China's first case of bird flu in more than a year died in Shenzhen on 31 December. A man died in Jakarta, Indonesia on 7 January.
It is believed that the 23-year-old was a family member of the toddler, and they were both in contact with sick pigeons.
In Vietnam tests confirmed that the 18-year-old man, who died on Monday, had contracted the disease, health officials said. This was the country's first bird flu death since April 2010.
He was working at a duck farm in Can Tho City in the Mekong delta. He came down with a high fever and developed problems.
Officials said that his house had been disinfected and people who were in contact with him placed under surveillance.
The two-year-old Cambodian boy from the northwestern Banteay Meanchey province fell ill on 3 January and was believed to have been in contact with sick poultry.
'Flu season'
The World Health Organization says the H5N1 strain of the bird flu virus has killed 342 people since 2003.
The majority of human cases of H5N1 infection have been associated with direct or indirect contact with infected live or dead poultry.
In South East Asia Vietnam has seen one of the highest numbers of deaths, with 59 fatalities since 2003, according to WHO data.
The winter months, also the flu season, is when outbreaks happen among poultry stocks, leading to possible human infection.
The 39-year-old Shenzhen bus driver, however, was believed to neither have been in contact with poultry or travelled recently.