Bangladesh authorities vow to hunt coup plotters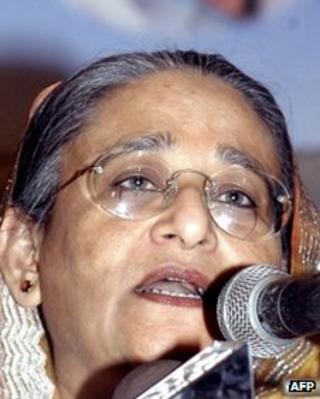 A senior minister in Bangladesh has vowed to bring to justice those responsible for plotting a coup.
On Thursday the Bangladesh army said it had foiled a conspiracy against Prime Minister Sheikh Hasina's government.
"Anyone who attempts to overthrow the democratic system will be traced... none will be spared," minister Syed Ashraful Islam told reporters.
Bangladesh has a history of military governments. The army ran the country for 15 years until 1990.
Sheikh Hasina took over power from a military-backed caretaker government in early 2009. Officials say she has since faced threats from Islamists and other radical groups.
'Extreme views'
"Action will be taken against them as per army regulations," said Mr Islam, who is also a senior leader of the ruling Awami League party.
"We might have differences of opinion, but there is no difference of opinion in the case of democracy. So it is the duty of all to protect the democratic system."
Military officials said that the officers planning the coup were in active military service and had "extreme religious views".
A group of up to 16 hard-line Islamist military officers - including at least two retired officers - were involved.
Some have been detained and officials say they will be presented before a military court.
Preliminary investigations showed that certain officers had been motivated by some Bangladeshi expatriates.
Meanwhile, the military confirmed that it would continue its hunt for a serving officer linked to the coup attempt.
"One serving officer Major Zia ul Haque is absconding. He did not yet report to his place of posting. That's why a move has been taken to locate him and to bring him to the book of law," Mr Shahinul Islam, Director of the Inter Service Public Relations, told the BBC.
The BBC's Anbarasan Ethirajan in Dhaka says it is still not clear how much Islamists have penetrated into the Bangladeshi army. Some retired officers agree that a small group of officers may be sympathetic to parties like Jamaat-e-Islami.
Although these officers may not have enough support within the army to bring about a change of government, they may yet be in a position to foment unrest, according to our correspondent.
Last year's changes to the constitution - to make it more secular - by the government of Sheikh Hasina angered hardliners, even though Islam was retained as the state religion.
The big challenge for the army is to identify officers linked to hard-line groups, analysts say.