No Pakistan testimony for 'memogate' witness Mansoor Ijaz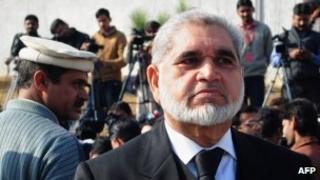 The key witness in a Pakistan Supreme Court inquiry into a secret memo, which threatens to derail the government, has said he will not testify in Pakistan.
Mansoor Ijaz, who is at the centre of Pakistan's "memogate" scandal, says he fears for his security and has offered to give evidence by video instead.
It was Mr Ijaz, an American businessman of Pakistani origin, who first revealed the existence of the memo.
The anonymous memo asks for US help to avert a coup by the Pakistani army.
In October Mr Ijaz said that he had been approached by Pakistan's US ambassador at the time, Husain Haqqani, for help in conveying the memo from President Zardari to the Americans.
Former US army chief Adm Mike Mullen admits receiving the memo but says he did not act on it.
Both the president and the ambassador deny the allegations, although Mr Haqqani was later forced to resign after the scandal caused an outcry among senior generals.
The outcome of the Supreme Court inquiry now threatens to destabilise the entire government.
'Foolproof security'
The Pakistani authorities say that everything possible has been done to guarantee Mr Ijaz's security but Attorney-General Maulvi Anwarul Haq said there was "no medicine for suspicion".
"We had assured him foolproof security, the army was also on board and an army officer was deputed for this purpose," Mr Haq said.
He said that it was now up to the inquiry to decide how to proceed further.
Mr Ijaz's lawyer, Akram Sheikh, said that his client was worried that he would either be detained indefinitely or attacked if he went on Tuesday to give evidence as planned before the inquiry.
"It seems like a well-orchestrated trap to hold Mr Ijaz indefinitely in Pakistan after his deposition before the commission," Mr Sheikh said, adding that his client instead wanted his testimony to be recorded in London or Zurich.
"Mr Ijaz refuses to walk knowingly into the trap being laid by the government and waits to speak the truth of this case," Mr Sheikh said.
He said that Mr Ijaz had also declined to appear before a separate parliamentary committee which is also investigating the "memogate" case in addition to the Supreme Court.