France troops to stay in Afghanistan - Alain Juppe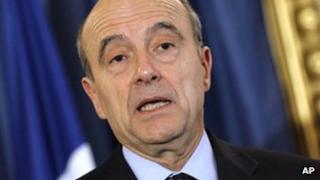 France is not planning an immediate withdrawal of its troops from Afghanistan, the French foreign minister has said.
Alain Juppe said he would not "succumb to panic" and remove all French soldiers, AFP news agency report.
On Friday, four French soldiers were killed and 15 were wounded during a shooting by an Afghan soldier in the northern province of Kapisa.
France temporarily suspended operations in Afghanistan after the incident.
"When I hear talk of an immediate withdrawal, such as at the end of 2012, I am not sure that this has been thought through and studied," Mr Juppe told the French parliament.
"We must not give in to panic, we must not confuse an orderly withdrawal with a rushed withdrawal," he added.
'Will to complete'
The French defence minister, who was sent to Afghanistan after the attack, is expected to submit his report to President Nicolas Sarkozy later on Tuesday.
Prime Minister Francois Fillon France could not accept that its soldiers were killed by other soldiers when they were training.
"At the same time, let there be no doubt about France's will to complete its mission in co-ordination with the other 47 countries. This mission is not over," he said.
France has almost 4,000 personnel and troops in Afghanistan as part of the 130,000-strong Nato-led force there.
Nato has been expanding the Afghan security forces so they can take over when Western combat forces leave in 2014. The US plans to withdraw 33,000 soldiers by the end of 2012.