Pakistan militia leader Haji Akhonzada killed by a bomb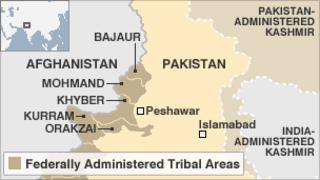 A leading pro-government militia leader in the Pakistani city of Peshawar has been killed in a bomb blast, officials have told the BBC.
At least three other people were killed and eight injured in the suicide bomb attack at the home of Haji Akhonzada.
His Ansurul Islam group was previously allied to the Taliban, but recently turned against them.
Hundreds of people have died in clashes between Ansurul Islam and another armed Islamic group, Lashkar-e-Islam.
It is reported to have claimed responsibility for the attack in Peshawar's Bakha Ghulam area on Monday.
Officials say that Mr Akhonzada - who escaped two previous assassination attempts in his power base in the lawless tribal district of Khyber - died as he was being treated for his injuries.
Officials say that the bomber was dropped off by a motorcyclist and walked into the house, which was still being built.
They say that Mr Akhonzada's son-in-law is among the dead.
Correspondents say it was the first bombing in Pakistan since 16 Shia Muslim worshippers were killed in Punjab province on 15 January.
Pakistani troops are fighting the Taliban in the border region. Hundreds of militants have been resisting attempts by the security forces to clear them from the area.