Pakistan jets 'kill militants' on Afghanistan border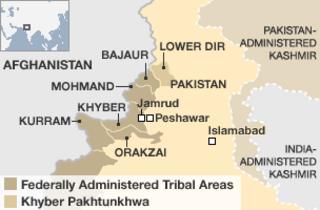 About 20 suspected insurgents have been killed in attacks by Pakistani jets near the Afghan border, officials say.
They say that the airstrikes were in response to an ambush by the Taliban on Tuesday in which at least eight soldiers were killed and 25 injured.
Local military officials say that a Taliban leader, Maulvi Moinuddin, was killed but there has been no independent confirmation of his death.
The strikes took place in the Jogi area of the Kurram tribal region.
Correspondents say that the latest violence reduces the chances of exploratory talks between the two sides.
The fighting comes at a time when Pakistan is having to defend itself from claims that its security services are directly assisting the Taliban in Afghanistan.
At the same time it is fighting Taliban Tehrik-e-Taliban Pakistan (TTP) militants based in north-west Pakistan.
The TTP, al-Qaeda and the Afghan Taliban movement fighting Western forces in Afghanistan are all entrenched in Pakistan's north-western tribal areas. A series of military offensives has failed to disperse them.
In addition to the strikes in the Jogi area, Pakistani jets also hit militant positions in the nearby Mamozai area in the Orakzai tribal region, officials say.
They say that at least 12 TTP militants and six Uzbeks were killed in the strikes.
"Local TTP commanders Mullah Toofan and Maulvi Moinuddin's hideouts were targeted and destroyed," a local military official told the Reuters news agency.
A local TTP spokesman said that both commanders were still alive.
Militants have been active in the Kurram tribal agency for several years.
Last week at least 23 people were killed in clashes between soldiers and militants in the area.
Pakistan launched an offensive in Kurram in July against the militants.
Correspondents say that while the army has fought Pakistani Taliban militants across many of the tribal regions, it has so far not bowed to intense American pressure to take action against the al-Qaeda-linked Haqqani network in its stronghold of North Waziristan.