Police arrests six in Occupy Sydney protest site raid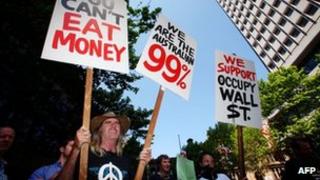 Six people were arrested in a dawn police raid at the Occupy Sydney site in Australia's largest city.
Police said the three men and three woman would be charged with ''breaches of the regulations of a local government'', Australian media reported on Thursday.
Tents at the campsite have also been torn down, reports said.
Protesters have been in the city's business district for months as part of the global ''occupy'' movement.
The protests against corporate greed and social inequality originated in New York's financial hub Wall Street on 17 September 2011.
Dozens of arrests and at least two other police raids have been made since the Occupy Sydney movement began in the city in October 2011.
Protesters on the other hand, have complained about ''excessive police force'', said an ABC News report.
The number of activists have dropped since and reports say that the movement's encampment in Martin Place, at the heart of the city's business district, has been dismantled.