Nepal former rebels begin to leave camps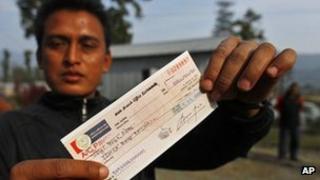 Thousands of former Maoist fighters in Nepal have begun demobilising, five years after they ended their armed revolt.
More than 7,000 fighters, confined to camps since 2007, are receiving money to help them return to civilian life.
Under a peace deal ex-rebels were given the choice of retiring with a lump sum, retraining or joining the army.
Politicians agreed that up to 6,500 fighters could join the army. But many more than expected chose this option.
It is thought that about 9,000 opted to enlist. An estimated 17,000-19,000 former rebels are in the camps.
In December Nepal's main opposition rejected pleas by Maoist Prime Minister Baburam Bhattarai to allow more former rebels to join the army. The situation has yet to be resolved.
Nevertheless, analysts say the start of demobilisation for those who opted for the pay-off will be seen as a positive sign for Nepal's long-stalled peace process.
Several hundred left their camps on Friday in the first set of departures. Depending on their rank, these fighters are entitled to between $6,000 and $11,000 (£3,800-£7,000) to help them return to civilian life.
"I have only one arm so I can't work in the fields, so some of us from the same village decided to open up a business with the money," former fighter Bhola Aryal told the Associated Press news agency.
Several camps were set up across the country after the war ended. They were monitored by the United Nations until January 2011. Former rebels have stayed in camps for so long because of the disagreements over their fate.
The Maoists launched their "people's war" in 1996. More than 13,000 lives were lost in the decade before the insurgency finally ended in 2006.