Five workers missing after Japan refinery collapse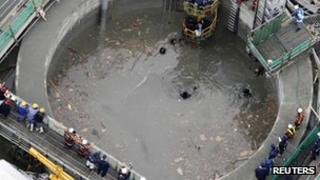 Five workers are missing after an undersea tunnel collapsed at one of Japan's biggest oil refineries, emergency services have said.
The workers were in the partially built tunnel at Kurashiki, 550km (345 miles) west of Tokyo, when it caved in.
A survivor "said that sea water came gushing in" and flooded the tunnel.
Police rescue divers have entered the vertical shaft of the tunnel, but are battling against poor visibility because of debris, mud and oil.
The accident happened at Mizushima Refinery, operated by JX Nippon Oil and Energy Corp.
Officials say it is not clear whether sea water is continuing to flow into the tunnel and create dangerous currents which are hampering the search effort.