Pakistan PM Gilani files appeal against contempt charge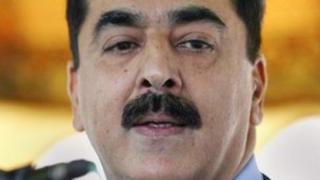 Pakistani Prime Minister Yousuf Raza Gilani has filed an appeal against appearing before the Supreme Court on contempt charges.
Eight of the court's judges, headed by Chief Justice Iftikhar Chaudhry, will hear the appeal on Thursday.
Mr Gilani was told last week to appear before the court on 13 February to be charged with failing to reopen corruption cases against the president.
If convicted he faces jail and being barred from office.
The prime minister, who has already appeared before the Supreme Court on 19 January, has refused to ask Swiss officials to reopen a corruption case against President Zardari.
He argues that the president - who says that the corruption charges are politically motivated - has immunity as head of state.
In the appeal filed early on Wednesday morning Mr Gilani's lawyer, Aitzaz Ahsan, argued that his Supreme Court appearance on 13 February should be set aside until the appeal had been heard.
Mr Ahsan said that he based the appeal on precedents set by top courts in Australia, Britain, France, India and the United States.
"My objection is that the court in its order on 2 February cited no specific reasons for initiating contempt of court proceedings against the prime minister," he told reporters.