South Korea police arrest man over 'Kim Jong-il altar'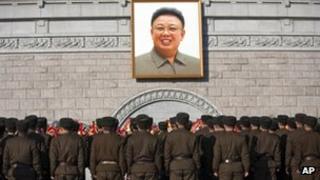 Police in South Korea have arrested a man suspected of building an altar to mourn North Korean leader Kim Jong-il.
The man is alleged to have set up the altar in central Seoul to honour Kim Jong-il, who died in December.
Police say that he also spread pro-North Korea material on the internet.
Both activities are banned under a controversial South Korean law outlawing any praise or sympathy for "anti-government organisations" or the sharing of "anti-state" publications.
Human rights groups say the National Securities Law (NSL) is now being increasingly used to silence government critics. They have called for the NSL to be reformed or abolished.
The BBC's Lucy Williamson in Seoul says the number of people interrogated under the law has reportedly tripled under the current administration.
Last month, South Korean political activist Park Jeonggeun was arrested for re-tweeting the message "Long live Kim Jong-il" from North Korea's official Twitter account.
"My intention was to lampoon North Korea's leaders for a joke," he told Amnesty International. "I did it for fun."
Mr Park is a member of the South Korean Socialist Party, which openly and frequently criticises the North Korean regime. He could face up to seven years in jail.