Indonesia salary policy 'to address cheating husbands'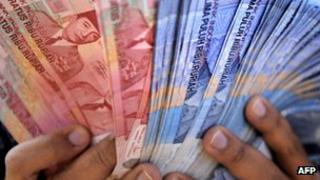 A new government policy in northern Indonesia will enable wives of civil servants to have direct access to their husbands' salaries, officials say.
The Gorontalo provincial government in Sulawesi will be transferring the pay of married civil servants to their wives' bank accounts from March.
The move is aimed at curbing extra-marital affairs, spokesman Rudi Iriawan told the BBC.
Many wives had complained about a lack of transparency on financial matters.
According to Rudi Iriawan, provincial governor Rusli Habibie had received numerous complaints that civil servants "only gave their wives some money to buy meals on a daily basis".
The wives alleged that their husbands were blocking financial access because they may be having affairs.
"We are very concerned about the issue. Thus, we believe it would be best if salaries of male, married civil servants are paid through their wives' accounts," he said, adding that "every cent from the salary can be used to cover household expenses instead of other things such as financing extra-marital affairs."
Some civil servants agree with the new policy. "All this time, it is my wife who has access to my salary anyway. She has the ATM card," said Saleh Yusuf, a civil servant in Gorontalo.
In the case of civil servants who have multiple wives, the salary will only be given to the legal wife. In Indonesia, a marriage is legal if it is registered with both the Religious Affairs Office and the Civil Registry Office.
Gorontalo was established in 2000 after separating from North Sulawesi province.