Afghanistan's army recruitment mess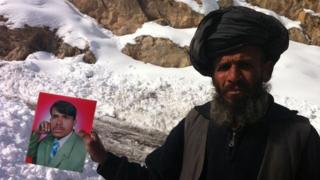 When Afghan soldier Abdul Saboor killed four French colleagues last month, he ended up hastening - by a year - France's exit from the war-torn nation. The BBC's Bilal Sarwary went to Saboor's village and uncovered a tale of deceit, raising questions about how Afghan soldiers are recruited.
When Abdul Saboor picked up his gun on 20 January, it was not to defend his country, family or honour.
He opened fire on French forces while on a joint operation hunting down a top Taliban commander in a remote part of Kapisa province last month.
"The mood was upbeat. We were just a whiff away from a big catch," one intelligence agent said.
"Suddenly, someone opened fire. I thought that the action had begun. But there was Saboor standing with smoke billowing from machine gun surrounded by bodies of French soldiers." He had fired 120 bullets and was overpowered before he could flee.
Attacks where Afghan soldiers turn their weapons on their colleagues or coalition troops are becoming more common. In most cases, the attacker is driven by anger or hatred.
One officer said that Saboor had been upset when he was told of pictures circulating on the internet, which showed American soldiers urinating on the bodies of Taliban fighters.
But should Saboor have been in the army in the first place?
Hospital to army
His mother died when he was 10 years old and Saboor ran away from his home in the village of Cheno Ghonday in Kabul's Mosay district after his father remarried. His father became concerned about his son's mental health.
"He didn't spend even five days with me in the past 10 years," Saboor's father said. "He would roam aimlessly through the day, eat and sleep on the streets."
Saboor became very sick and his father said doctors recommended he be hospitalised for months. So he was admitted to a psychiatric hospital in Kabul. When his father returned for him, doctors said he had run away. As it turned out, he had joined the army.
It is unclear how he managed to fool the army health commission, a panel of senior doctors and psychiatrists, whose task is to assess the physical fitness and mental balance of a prospective recruit.
And his suspected mental illness was apparently not noticed by fellow trainees and instructors at Kabul's Military Training Centre in the eight weeks he spent there, investigators say. He was deployed to Kapisa shortly afterwards.
But Saboor had joined and deserted the army once before too. Nine months into service the first time round, Saboor deserted the army and ran away to Peshawar in Pakistan.
People in his village told me that Saboor turned up one day after deserting. "He looked tired and sick," one villager said. "One of his uncles then took him away to Peshawar for treatment."
So how did he end up in the army again?
Faked files
The BBC has seen documents that shows Saboor's recruitment file for the Afghan National Army (ANA) when he joined the second time round was faked. The BBC has also seen hundreds of fake documents belonging to other recruits. This is clearly a broader problem.
The defence ministry in Afghanistan has been preparing a biometric database of all its soldiers for the past 10 months.
Since the arrival of biometrics 10 months ago at Kabul's Military Training Centre, investigators have identified more than 2,300 recruits who either deserted the army previously, were in the police force or had criminal problems.
In the last few months, more than 500 recruits have been turned down because they are considered untrustworthy or suspected of being Taliban infiltrators.
Recruitment officials say they are asked to provide 8,000 soldiers a month. So far they have given the ANA 300,000 from across the country.
''Almost all rogue soldiers and Taliban infiltrators who carried attacks against Nato forces had fake files,'' defence officials said.
Officials say they cannot go into every district and village to check background and gather intelligence.
According to Saboor's file, he approached an army recruiter and offered to pay for fake enlistment documents. The recruiter arranged a national ID, a sworn statement from two people vouching for Saboor's integrity and other papers. These paved the way for Saboor's second stint with the ANA.
There is no mention of Saboor's mental illness or his previous record in the army - an important requirement in the recruitment process.
"It is possible that Saboor slipped through the cracks in the system," a defence ministry official said, adding that all those who arranged his fake papers had been arrested.
Another defence official, who also wished to remain unnamed, said that the army has 185,000 soldiers but spoke of the constant pressure to meet the target of 195,000. He says that time constraints meant they hadn't had time to perform biometrics or background checks.
Denial
Most Afghan and Nato officials the BBC spoke to about the Kapisa incident refused to comment. But the spokesman for the armed forces in Paris, Col Thierry Burkhard, was more forthcoming.
The colonel said the preliminary report received by the French government from Kabul makes no mention of Saboor's psychological problems. He said that during interrogation in the presence of French investigators, Saboor appeared calm and answered questions in a determined fashion.
"Apart from the fact that Saboor's behaviour in itself could raise questions about his sanity, any allegations that he is insane are not necessarily true," Col Burkhard said.
The colonel said the French authorities are aware that Saboor was recruited twice, at least once on a forged set of documents, but he said it is something the Afghan authorities have to deal with.
The consequences of Saboor's attack have been dramatic. French troops will now withdraw a year early and France's President Nicolas Sarkozy said France cannot accept that a single soldier dies at the hands of an ally.
But it has laid bare the vulnerability at the heart of the Afghan army, in its very recruitment process.