Sydney abattoir shut down over animal cruelty concerns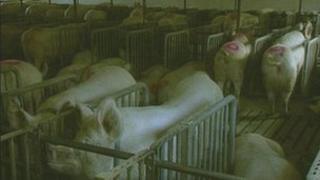 An abattoir in the Australian city of Sydney, has been closed down after a video surfaced showing animal cruelty, local media report.
The video comes less than a year after Australia suspended live cattle exports to Indonesia over cruelty concerns.
The secret footage was aired by the Australian Broadcasting Corporation and showed what an official described as "acts of gross animal mistreatment".
Officials closed the Hawkesbury Valley abattoir on Thursday.
The New South Wales Food Authority is investigating, and the abattoir said it would cooperate with authorities.
"There is no denying that the footage is disturbing," the Food Authority's Peter Day told reporters. "I'm shocked. I think it is the worst case I've seen in an abattoir in terms of animal welfare breaches."
The video, shot undercover, includes footage of pigs being dragged and repeatedly struck on the head. It also showed that some animals were not properly stunned before they were slaughtered.
Last year, Australia had suspended live cattle exports to Indonesia after a video of animal mistreatment at Indonesian abattoirs was shown on ABC.
Trade continued after Indonesia agreed to a new permit system with stricter standards.