US and North Korea to hold nuclear talks in Beijing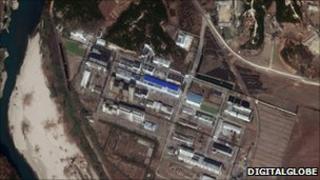 US and North Korean officials will meet on 23 February to discuss Pyongyang's controversial nuclear programme, the US state department says.
It says the US envoy for North Korea, Glyn Davies, will hold talks with North Korean First Vice-Foreign Minister Kim Kye Gwan in China's capital, Beijing.
The talks are aimed at restarting negotiations over disarmament.
They will be the first such talks since the death of North Korean leader Kim Jong-il in December.
Testing Pyongyang
The talks in Beijing were announced by state department spokeswoman Victoria Nuland at a news conference in Washington.
"This is a continuation of the meetings that we've been having with North Korea to see if it is prepared to fulfil its commitment and its international obligations as well as to take concrete steps towards denuclearisation," she said.
Ms Nyland was referring to the 2005 agreement under which Pyongyang agreed to give up its nuclear ambitions in return for aid.
Two rounds of such talks between US and North Korean officials were held last year, but the third round was cancelled because of the death of Kim Jong-il.
North Korea's long-time leader died on 17 December. His son Kim Jong-un, who has very little political experience, has been installed as his successor.
The Beijing talks will be the first opportunity to test Pyongyang's willingness to engage in serious negotiations under its young leader, the BBC's Kim Ghattas in Washington reports.
Before the cancelled third round, Washington had been reportedly discussing a request by Pyongyang to resume aid assistance, amid concerns voiced by aid groups that the impoverished state may be suffering food shortages.
Multinational talks between the secretive communist state and five nations - the US, South Korea, Japan, China and Russia - on the denuclearisation deal have been stalled since April 2009.
Washington and Pyongyang accuse each other of failing to abide by the agreement.