Pakistan frees US man in Peshawar 'held over bullets'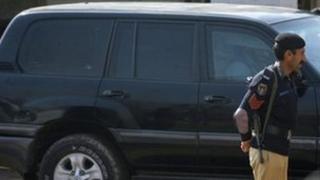 Pakistani police have released a US citizen detained at the airport in the city of Peshawar after he was discovered with bullets in his luggage.
Police say that the man was set to fly to the Pakistani, capital Islamabad.
He is thought to have worked at the US consulate in Peshawar and reports said he might have had diplomatic immunity.
US-Pakistan ties deteriorated sharply after the killing of Osama Bin Laden by covert US special forces in north-west Pakistan last May.
Relations were already tense after an earlier incident where a CIA contractor killed two Pakistani men in Lahore. Raymond Davis was detained by Pakistani police, despite claims that he had diplomatic immunity.
He was eventually released after a "blood money" deal was made with the families of the two victims. But the case ignited anti-American feeling across Pakistan and prompted angry demonstrations.