'Fifty years of driving in the world's most volatile city'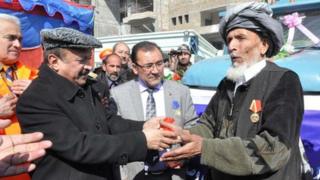 An Afghan truck driver and street cleaner has been given one of the country's most prestigious awards - the Mir Masjidi Khan medal - for almost 50 years of unbroken service to the city of Kabul. The truck he drove was also presented as a gift. He told the BBC's Bilal Sarwary about how he kept working during Afghanistan's most volatile half century - coup or no coup.
"My name is Adam Khan and I am 68 years old. I have worked for the Kabul municipality for 48 years as a driver for the city's cleaning department.
My first day was when I was in my 20s, during the reign of King Mohammad Zahir Shah. The first thing I had to do was pass a truck driving test to prove I could be safe in the streets and alleyways.
It was an exciting time. I passed the test, and the municipality handed the truck over to me. I still own it today.
That means that I have driven the same truck for 48 years almost non-stop. I was still driving when President Daud Khan took over in a coup.
I didn't know there had been a coup but my boss told me to leave early for home. It was only when I turned up at work the next day that someone told me.
'A president's gift'
Kabul was beautiful then. It was cleaner, its population was smaller and it had a lot of trees, gardens and water - the Kabul river was full.
I remember tourists visiting the city. But I also remember that there were few roads and traffic rules were very strict.
You would never see drivers flashing their lights like they do today. One thing I always did, and still do, is stay out of politics.
One day, I was cleaning the street very close to the official residence of former President Sardar Mohammad Daud Khan.
He noticed me, give me tap on the shoulder and told his secretary to gift me a suit and shoes - my first direct interaction with a senior politician!
When he was killed in a coup, I found out about it next day. The Kabul municipality kept working, no matter what happened, coup or no coup.
When President Noor Mohammad Taraki took over, I kept working like I always did.
'Red and blonde Russians'
But I do have some very bitter memories. Sometimes, people wouldn't let us eat with them in weddings or at funeral ceremonies, they would simply say that we were dirty. I never took offence.
I don't remember how the Russians came. But one day I was driving close to the Kabul International airport - and there I saw Soviet soldiers inside a tank.
They were red and blonde, I certainly knew they were not Afghans. Their embassy was huge and they generated a lot more traffic.
I have always resolved that no matter what, I would never leave Afghanistan.
When the Russians left and President Najibullah took over I continued to do my job. Only one major thing changed in my life: I moved my family house to Kabul city from Bagrami district.
Kabul's electric buses, bigger streets, parks and infrastructure were all in place by then. But things didn't stay the same - civil war was not far off.
During that time we used different roads and routes to carry on cleaning the city.
I have to say this was the weirdest period of my 48 years - during this time, rockets sometimes landed very close.
But the Kabul municipality kept functioning - some NGOS paid for our fuel and food. But it was a risky time. Kabul - a city under siege - lost its unique look.
Under the Taliban, I continued working. I always had hope that things would improve under them.
During my time I have driven every single road and street in the city.
'Drivers killed'
My one bit of advice to other drivers is always be careful. That is why I have managed to keep my truck in good shape for 48 years - I treated it as my own child.
When the Taliban were being forced out, there were so many explosions in Kabul city - several of the drivers working with us died.
There was no lunch, I often just grabbed some bread and ate it while I drove to pick up garbage.
I want to say that only about 1% of Kabul's residents make any effort to keep the city clean. Most people throw their rubbish onto the streets.
I never knew that they were going to give me my truck. On the day I left, I handed the keys and documents happily to the other driver. I then got a call and this is how I came to know.
My truck is like my child. I am deeply attached to it.
It is now parked outside. I might drive it to bring sand and stones for construction work - once the paperwork has been done.
But it will never be the same as working for Kabul municipality.