Police arrest 'rat poison killer' in Indonesia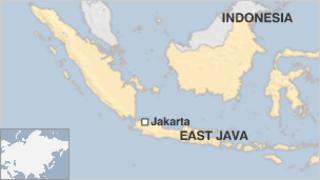 Police in western Indonesia have arrested a man accused of killing at least four men with rat poison after having sex with them.
The 24-year-old, who cited jealousy as his primary motive, was arrested on Monday in Nganjuk district, East Java.
Police said three men were found dead last month and the fourth this month.
They say the suspect is accused of killing his victims by mixing rat poison into their drinks.
Nganjuk Police chief Lt Col Anggoro Sukartono told BBC Indonesian that the suspect had poisoned at least six men, but two survived and were in critical condition.
Police said nine other cases of poisoning apparently revealed by the suspect were still being investigated.
"Four of the victims died, two survived, and we have no idea what happened to the others," said local police chief Anggoro Sukartono.
They believe the other victims may have hesitated to file a police report out of embarrassment, because homosexuality is still a relatively taboo subject in Indonesia.
The suspect is to be given a psychiatric evaluation on Friday to determine his mental health.
He could face the death penalty if found guilty of pre-meditated murder.