Air Australia grounded amid financial woes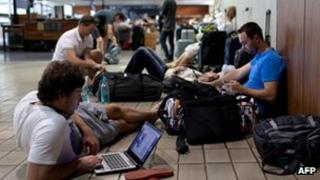 Budget airline Air Australia grounded all flights as it went into voluntary administration, a day after Australian flag carrier Qantas announced major cutbacks.
Thousands of passengers were stranded after the airline announced there are no funds available to meet operating expenses.
An official said they were seeking a "white knight" to save the airline.
On Thursday, Qantas said it would cut 500 jobs and close some routes.
The move comes after its profits were hit by an industrial dispute and rising fuel costs.
'No funds'
Air Australia, with a staff of 300, flies international routes to Bali, Thailand and Hawaii. It also operates domestic flights to Brisbane, Melbourne, Perth, Derby and Port Hedland in Australia.
"In the short-term, the fleet will be grounded. It currently appears that there are no funds available to meet operational expenses so flights will be suspended immediately," the Brisbane-based airline said in a statement on its website.
"For clarity, it also appears highly unlikely there will be any flights in the short- to medium-term."
It added that passengers should "make alternative travel arrangements". The number includes at least 4,000 passengers stranded abroad.
KordaMentha has been appointed as administrator to look into the airline's financial issues.
"Hopefully we can find a white knight, if not the operations will stay suspended," Mark Korda, one of the administrators, was quoted by Australian media as saying.
On Thursday, the airline did not have enough money to pay for fuel at Phuket International Airport.
Previously known as Strategic Airlines, Air Australia was relaunched in 2011. It has a fleet of five jets.