Blast at Pakistan town 'kills 26'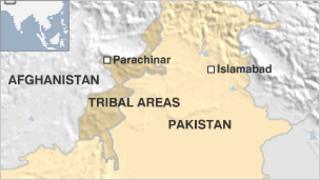 A suicide bomb attack on a market in a Shia Muslim area of north-west Pakistan has killed 26 people and injured at least 50 others, officials say.
The attacker blew himself up close to a mosque in the town of Parachinar in Pakistan's tribal region of Kurram.
Three more people died when security forces fired on crowds protesting against the attack.
Fazal Saeed, the leader of a breakaway faction of the Pakistani Taliban, said it carried out the attack.
"We have targeted the Shia community of Parachinar because they were involved in activities against us," he told Reuters news agency.
Residents said the bombing destroyed at least eight shops in the bazaar, AFP reports.
A curfew has been imposed in the town.
Pakistan has been plagued by sectarian attacks, with Shia Muslims targeted by radical Sunni groups.
The Kurram region in particular has a history of violence between Sunni and Shia groups.
Prior to a peace deal last February, Shia tribes had been waging a three-year war to keep the Taliban out of the area.
Last July, Pakistani security forces launched an offensive against militant groups in Kurram.