Jail gunfight in southern Philippines 'kills three'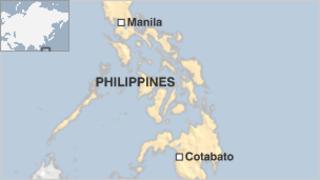 At least three people have been killed after dozens of gunmen attacked a jail in the southern Philippines in a bid to free a prisoner, police say.
At least 50 gunmen stormed a jail in Kidapawan City, North Cotabato province late on Sunday night.
Police say the attackers were from the Moro Islamic Liberation Front (MILF) and were trying to free a leader, but the rebel group denies this claim.
At least 15 civilians were also injured in the attack.
The attack was launched at 22:00 local time (14:00 GMT) when gunmen fired a series of grenades at the jail's main gate.
Eyewitnesses told the BBC that the gunmen missed their target, but the noise alerted police, who then fired back. The gunmen fled after launching more grenades.
A Red Cross worker, who was reportedly trying to bring wounded civilians to hospital, was among those killed in the crossfire. The two others who died were from a nearby karaoke bar.
According to the BBC's Kate McGeown in Manila, at least three different rebel groups and many criminal gangs are active in the area, making it difficult to ascertain who was responsible for this attack.