Burma 'seriously considering' Asean poll observers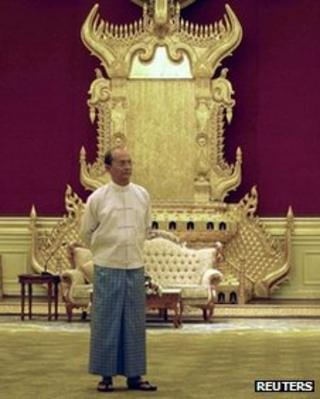 Burma is ''seriously considering'' allowing observers from the Association of Southeast Asian Nations (Asean) to attend its upcoming by-elections, the group of nations said on Tuesday.
President Thein Sein told this to Asean Secretary-General Surin Pitsuwan, who was on a four-day visit to Burma.
If observers are allowed for the 1 April poll for 48 parliamentary seats, it would be a first for the country.
Burma has been awarded the Asean chairmanship in 2014.
The regional bloc said in a statement that the move to admit observers ''will boost transparency'' and ''add to the international goodwill'' that the country had garnered so far.
Burma has recently taken steps towards reform aimed at encouraging the European Union and the United States to lift their sanctions. These include the release of 651 prisoners last month, many of whom were high-profile political dissidents.
The military-backed civilian government has also signed ceasefire agreements with ethnic minority rebel groups. However, the process has met some challenges and setbacks.
The Shan State Army-South, a major ethnic rebel group that has signed a ceasefire deal, told BBC Burmese that skirmishes with government troops have been taking place since 17 February.
Rally restrictions lifted
On Monday, officials in Burma lifted restrictions on election campaigning, following a complaint by pro-democracy leader Aung San Suu Kyi's political party, the National League for Democracy (NLD).
Hours after the NLD held a press conference saying that it was being denied the use of venues for rallies, election officials contacted the party to say that a ban on the use of sports grounds, which had prevented a rally planned for 14 February from taking place, had been lifted.
"It's a very significant change,'' party spokesman Nyan Win told AFP news agency. ''We are still hoping for fair play."
The NLD boycotted Burma's last election in 2010 but agreed to rejoin the electoral process after the government began a series of reforms. Even if the opposition wins all 48 seats, the government would still have a commanding majority in parliament.
The 2010 elections saw a military junta replaced with a nominally civilian government backed by the armed forces.
The NLD won a landslide victory in the 1990 election, but the ruling military junta at the time did not allow the party to take office.
Ms Suu Kyi, who won the Nobel Peace Prize, was under house arrest at the time. This is the first time that she has run for a parliamentary seat.