Burma 'needs more funds to fight Aids'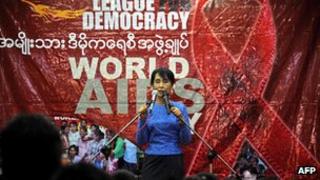 Medical charity Medecins Sans Frontieres (MSF) has called on international donors to make more money available to treat HIV/Aids in Burma.
Peter Paul de Groote, MSF head in Burma, told the BBC that the current situation was dire.
He said more than 15,000 Burmese die of HIV/Aids every year because they do not have access to anti-retroviral drugs.
The prevalence rate of the disease is at 0.67% - relatively low by international standards.
However, years of international isolation and sanctions have left Burma with a threadbare healthcare system.
At the launch of a new report called Lives in the Balance, MSF said that only a quarter of the estimated 120,000 people living with HIV and Aids were receiving treatment, and that it was turning people away from its clinics.
"It's an unacceptable decision that our doctors have to make on a day to day basis," Mr de Groote said.
"We have to prioritise those who are sickest and will die soon to save their lives. Other people we have to turn away and say come back when you are sicker."
Curtailed plans
Last year, plans were made for a massive scaling up in the provision of anti-retroviral drugs in Burma, with MSF and its partners hoping to reach 100,000 people.
But those proposals were shelved after the Global Fund, a public-private initiative that provides the bulk of money to fight Aids worldwide, said a drop in donations meant it no longer had the resources to support new projects.
Burma spends a quarter of its budget on the military and only a fraction of that on health, but Mr de Groote said his organisation had not asked the army-backed authorities to reassess their priorities.
"We are not politicians, but we do hope the health sector will receive more money over time, and there are some indications that this will happen," he said.
MSF's new report comes amid continuing signs of political reform in Burma.
Hundreds of political prisoners have been freed and Nobel laureate Aung San Suu Kyi's political party, the National League for Democracy, will contest in April its first elections since 1990.
If that vote is seen as being free and fair, then Western sanctions could be loosened or lifted and developmental assistance stepped up.