Nepal talks after cabinet minister Gupta is jailed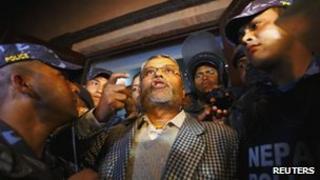 A junior party in Nepal's coalition is to hold an emergency meeting following the conviction on Tuesday of its leader for corruption.
Communications Minister Jaya Prakash Prasad Gupta was sentenced to 18 months in prison for accumulating wealth beyond his income and abuse of power.
The conviction of a serving minister for corruption is rare in Nepal.
Correspondents say his Madeshi People's Rights Forum (Republican) party is divided over the conviction.
While some have welcomed it, his supporters say he has been targeted because of his support for Madeshis - an ethnic grouping who live on Nepal's southern plains bordering India.
The Supreme Court ordered Gupta to pay a fine of 8.4 million rupees ($106,000/£67,500). His conviction means that he automatically loses his cabinet position and parliamentary seat.
The ruling is final and he cannot appeal.
"I will not be deterred by this setback. I will remain in politics," Gupta told reporters before being led away to start his sentence on Tuesday.