More unrest at riot-hit Bali jail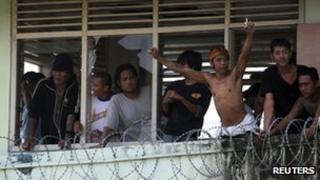 There has been a second night of unrest at the biggest jail on Bali island in Indonesia following a riot that broke out on Tuesday.
Prisoners "started throwing rocks and petrol bombs at around 2200 (1400 GMT)" on Wednesday night, Kerobokan prison police told the BBC.
Officials told the BBC that the situation was under control.
But foreign inmates are being moved from the prison and some reports say a stand-off is continuing.
The prisoners were demanding the release of three inmates detained over Tuesday's riots, a prison spokesman told the BBC.
He said that security forces took control of the prison at 0200 local time and there were no immediate reports of injuries.
But other media reports said that hundreds of security personnel had surrounded the prison and that prisoners were in control of parts of it.
The Kerobokan prison was originally built to hold 300 prisoners but currently houses about 1,000.
This includes a number of foreign nationals including members of an Australian drug smuggling ring called the "Bali Nine" and convicted drug trafficker Schapelle Corby.
Ray Marcelo, spokesman for the Australian embassy in Jakarta, told the BBC that foreign prisoners were to be transferred from Kerobokan prison to one in Klungkung.
Preparations were underway for immediate transfer, he said.
Kerobokan prison is located less than half an hour away from the international airport.
Concerns have been raised over security at the prison, which has seen other recent riots including one in June last year, says BBC correspondent Karishma Vaswani.