Pakistan unrest: Gunmen storm Peshawar police station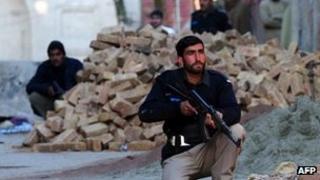 Gunmen have attacked a police station in north-western Pakistan, killing at least four policemen and injuring seven others, officials say.
Up to five gunmen tried to storm the building, in the city of Peshawar.
Exchanges of fire were heard in the area as police tried to repel the attack. Three attackers also blew themselves up, officials say.
Peshawar lies near the lawless tribal belt - a stronghold of Taliban and al-Qaeda militants.
The gunmen - armed with assault rifles and bombs - attacked the police station in the heart of the city on Friday morning.
No group has so far said it carried out the attack.
Peshawar has recently been the target of several attacks.
On Thursday, at least 12 people were killed and 30 injured after a car bomb targeted a bus stop in the city.
Militants often carry out attacks across the north-west in retaliation for operations by the army against them in the tribal areas.