Pakistan PM urges Afghan Taliban to talk to Kabul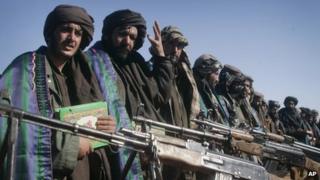 Pakistani Prime Minister Yousuf Raza Gilani has urged the Afghan Taliban to hold direct peace talks with the Afghan government.
Mr Gilani said he hoped the Taliban and other militant groups would respond to his appeal. There is no word yet from the Taliban.
Correspondents say this is the first time Pakistan has made such an appeal.
Pakistan's role is crucial to the peace process because of its long standing ties with the Afghan Taliban.
Policy change?
Mr Gilani's statement said he had made the appeal after being asked to by President Hamid Karzai, who visited Pakistan last week.
"It is now time to turn a new leaf and open a new chapter in the history of Afghanistan," said Mr Gilani.
"In this spirit, I would like to appeal to the Taliban leadership as well as to all other Afghan groups, including Hezb-e-Islami [of Gulbuddin Hekmatyar], to participate in an intra-Afghan process for national reconciliation and peace."
His statement is seen as a potentially significant shift in Pakistan's public stance towards Afghanistan. The relationship has been dogged by years of mistrust.
"It's the first public statement of its kind from a Pakistani leader," senior analyst Rahimullah Yusufzai told the BBC. "But it's not clear whether this will lead to a change in policy."
Mr Gilani's statement comes a day after the Taliban said they did not want to waste their time talking to Mr Karzai's government.
A senior Taliban spokesman told the BBC that as far as the insurgents were concerned there were only two sides in the Afghan conflict - America and the Taliban.
But BBC correspondents say Mr Gilani's statement will go down well in Kabul, which has complained of being sidelined in the talks process.
A Taliban office is currently being set up in Qatar while exploratory contacts take place.
Pakistan's militant links
Afghan officials believe Pakistan not only has influence with the Afghan Taliban but protects its senior leadership, which Pakistan denies.
For years insurgents have used the country's border regions to launch attacks in Afghanistan, despite the presence of thousands of Pakistani troops in the area.
Observers say Pakistan's military is selective in which insurgents it goes after, seeing some groups such as the pro-Taliban Haqqani network as potentially useful in influencing future events in Afghanistan.
It is not clear, however, how much control Pakistan's powerful military has over such groups or whether it fully goes along with the civilian prime minister's statement, correspondents say.