Vietnam communist meeting debates radical reforms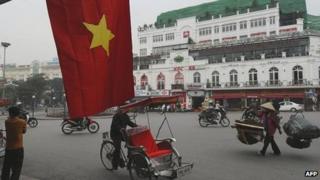 A meeting of 1,000 delegates - including the entire Politburo - is taking place in Vietnam on reforming the governing Communist Party.
They will spend three days discussing how to regain people's trust.
Two months ago, Communist Party General Secretary Nguyen Phu Trong said that if the party wanted to remain in power, it must reform or die.
Vietnam's leaders have been grappling with corruption and economic mismanagement of state-owned firms.
They are also contending with public disquiet about land rights after a violent protest in Haiphong.
'Plagued by individualism'
In a newspaper interview, Mr Trong said the country faced "numerous challenges and difficulties, including high inflation and high national and foreign debts".
He said it was "especially important" to adjust public spending and quickly remove barriers that inhibit "leadership, management and administration".
"A number of party... members lack proper discipline, are plagued by individualism, selfishness and opportunism," he said.
"This gives rise to some individuals' words not matching their deeds, not adhering to party rules and regulations and having no proper mechanisms for disciplining those who make mistakes."
Prime Minister Nguyen Tan Dung in his new year message said that "business interests hugely influence policymaking".
Correspondents say that the country is on the verge of introducing a raft of constitutional reforms, including a strengthening of human rights and limits on the power of the state over individuals - such as better protection for people accused of criminal offences.