China violence: '20 dead' in Kashgar city in Xinjiang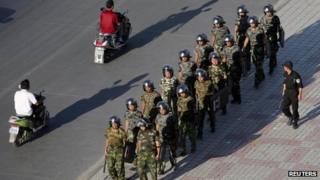 At least 20 people died in violence in China's ethnically divided western region of Xinjiang on Tuesday, the authorities say.
The regional government said a group of what it called terrorists, armed with knives, attacked people on a busy shopping street near the city of Kashgar, killing 13 people.
It said seven of the attackers were shot dead by police.
Earlier, state media described the incident as a riot.
Security has been high in Xinjiang since riots in 2009 between local Muslim Uighurs and Han Chinese migrants.
Nearly 200 people were killed in that unrest - most of them Han, according to officials.