Australia state of New South Wales hit by floods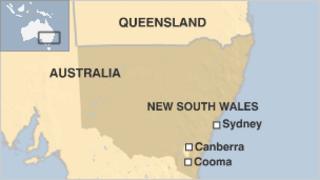 Torrential rain has brought flooding to the Australian state of New South Wales and forced evacuations in some areas.
Large parts of the state were either flooded or under threat, local media said. Canberra had received its entire monthly average rainfall in one day.
The rain has been caused by a weather system moving across southern and central parts of the state.
Several roads are said to be closed and a dam to the west of Sydney was reportedly at risk of overflowing.
"We've got a very serious situation developing in New South Wales, about 75% of the state is flood-affected or in flood watch," State Emergency Services spokesman Dieter Geske told ABC News.
"This rain band has been an extraordinary event as in we rarely see rain of this magnitude in this part of the state, and we rarely see a low trough hang around for as long as this trough's going to."
The Age newspaper reported that Canberra had been hit by 53mm of rain in 24 hours, compared to an average monthly total of 50.7mm.
Evacuations had been ordered in at least four areas of New South Wales, including in Cooma where two creeks were said to be rising rapidly.
The Bureau of Meteorology said some areas in New South Wales could expect more than 100mm of rain on Thursday and warned of possible flash floods in the coming days.
Northern parts of the state and southern areas of Queensland were also hit by flooding last month.