Two die in Afghan suicide attack near Bagram air base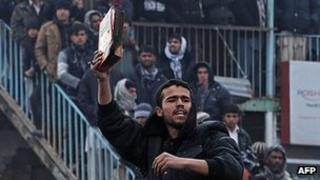 At least two civilians have been killed and four injured in a suicide attack at the entrance to the Bagram air base in Afghanistan, officials say.
The US base was where copies of the Koran were burned last month, sparking outrage and deadly protests across the country.
Officials said the bomber targeted a Nato vehicle at the entrance to Bagram.
The Taliban said that they had carried out the attack to avenge the burning of the Korans.
"A suicide attacker came out of a truck and blew up his vest outside Bagram airfield (at a gate used by supply vehicles)," provincial governor Abdul Basir Salangi told the AFP news agency.
US officials and President Barack Obama apologised for the burnings, saying that the Korans were "inadvertently" put in an incinerator.
But repeated apologies failed to quell public anger and there were violent protests and targeted killings that left more than 30 people dead over several days.
Muslims consider the Koran the literal word of God and treat each book with deep reverence.