Pakistan court: Zardari corruption case 'must be reopened'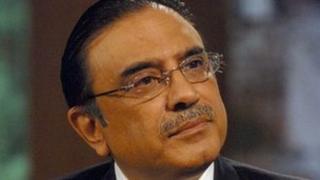 Pakistan's Supreme Court has ordered the government to request the Swiss authorities to reopen a corruption case against President Asif Ali Zardari.
The case is at the centre of contempt proceedings against Prime Minister Yousuf Raza Gilani, who is accused of failing to pursue the allegations.
The government has argued that Mr Zardari has presidential immunity. He says the case is politically motivated.
But the court has said a compliance report must be filed by 21 March.
The Supreme Court earlier adjourned a contempt hearing against the prime minister to 21 March as well, saying that Mr Gilani must either file a statement or testify personally that day.
Correspondents say that by ensuring that both cases are heard on the same day, the court has effectively narrowed the legal options of the prime minister.
Mr Gilani is being tried for contempt because he has refused to write a letter to the Swiss authorities despite a Supreme Court order which overturned an amnesty on corruption cases said to be politically motivated.
The BBC's M Ilyas Khan in Islamabad says Thursday's court order is likely to further heighten the tensions between the government and the judiciary.
Many in Pakistan wonder whether this is a power struggle between two state institutions or a battle to ensure the rule of law, our correspondent says.
Swiss 'laundering'
The prime minister, who has pleaded not guilty to the contempt charges, faces jail and being barred from office if convicted.
In explaining why he did not ask for the cases to be reopened, Mr Gilani has said it would have been unconstitutional to pursue them as the president has immunity as head of state.
In 2003 Mr Zardari and his late wife, Benazir Bhutto, were found guilty in absentia by a Swiss court of laundering millions of dollars in kickbacks from Swiss firms while they were in government.
They appealed and Swiss officials dropped the case in 2008 at the request of the government led by the Pakistan People's Party of Mr Zardari.
The case was one of thousands dropped under an amnesty agreed with then President Pervez Musharraf that allowed Ms Bhutto to return from self-imposed exile and run for election in 2008. She was assassinated shortly after returning.
However in 2009 Pakistan's Supreme Court declared the amnesty unconstitutional, leaving those covered by it open to prosecution.
Analysts say the court and the government are locked in a power struggle over who is the final arbiter of the rule of law.