New Australian Foreign Minister Bob Carr sworn in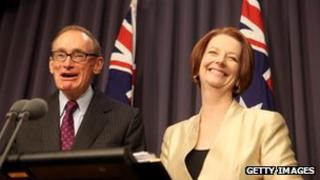 Australia's new Foreign Minister Bob Carr has been sworn in at a ceremony in Canberra.
He was named by Prime Minister Julia Gillard over a week ago to replace Kevin Rudd, who resigned last month in the lead-up to a leadership vote.
Mr Carr, a former New South Wales premier, officially joined the Senate before he was sworn in as FM.
He took the oath at Government House among a group of witnesses including his wife and the prime minister.
His appointment came amid intense speculation over the new cabinet line-up after Ms Gillard defeated Mr Rudd in a party leadership vote.
Ms Gillard, who became Australia's first female prime minister in June 2010 after ousting Mr Rudd, now a backbencher, had kept Australian media and political watchers guessing who she would appoint to the role.
Defence Minister Stephen Smith, a former foreign minister, was tipped as the front-runner for the post, but he remained in his current job.
Instead, Mr Carr, who had retired from politics for six years, was named.
He served as NSW premier for 10 years from 1995 and was seen as a driving force behind the successful 2000 Olympics in Sydney.
'Shattered' by shootings
Since he was appointed, he has visited New Zealand and met Foreign Minister Murray McCully. On Thursday, he is scheduled to meet his Indonesia counterpart. He plans to visit the United States and countries in Asia soon, he said.
"I've got a lot to learn, I'm bound to make mistakes, I hope my colleagues will correct me and teach me the right way of going about it," he told reporters.
When accepting the appointment earlier this month, he paid tribute to Mr Rudd's achievements as foreign minister and said he would seek his advice on matters such as Australia's relations with Burma.
Mr Carr also promised to take the lead on Australia's bid for a seat on the United Nations Security Council.
On Tuesday, he expressed sadness at the shooting of civilians in Afghanistan by a US soldier.
"I am shattered by those heart-rending events in Afghanistan," he was quoted as saying by ABC News.
"The tragic thing is that it worsens the drift towards what some people describe as a clash of civilisations and that is something we've got to redouble our efforts to guard against."