Vietnam jails Hmong over unrest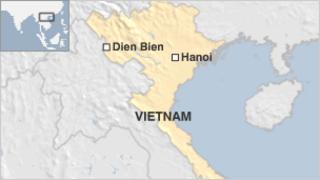 A Vietnamese court has jailed eight members of the Hmong minority for up to two-and-a-half years each in connection with ethnic violence last May.
State media said the men were convicted of disturbing social order.
Last May, security forces clashed with thousands of Hmong, a mostly-Christian group, holding a religious gathering.
Christian human rights groups say those gathered were members of a sect who thought that a messiah was coming to set up a Hmong kingdom.
Correspondents say the clashes in Dien Bien province were the most serious ethnic unrest in the country for several years.
The Hmong communities in Vietnam's mountainous north-west are among the poorest people in the country.
They have a relationship of mutual mistrust with the government.
Many of the Hmong fought on the side of the United States during the Vietnam War, and they feel they are discriminated against because of their past.