Thailand bomb suspect fights extradition in Malaysia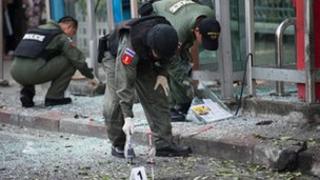 An Iranian man suspected of involvement in a bomb attempt in Thailand has appeared in a Malaysian court to fight extradition.
Masoud Sedaghatzadeh denied any involvement in an alleged bomb plot against Israeli diplomats on 14 February.
He was arrested at Kuala Lumpur airport a day after three bombs exploded in the capital, Bangkok.
Thailand and Malaysia have no formal extradition treaty.
Malaysian officials said Mr Sedaghatzadeh's extradition was requested by Thailand. They are waiting for more evidence from Thailand before the next hearing scheduled on 16 April.
According to Mr Sedaghatzadeh's lawyer, the application to extradite him was not valid, because there is no formal treaty between the two countries.
He said his client was on holiday in Thailand and arrived in Malaysia on business as a car parts dealer.
"Why am I here? I don't have anything to do with the case," Mr Sedaghatzadeh told the court in Farsi, speaking through an interpreter.
Thai police have named at least six suspects in the blasts that came just a day after two bomb attacks targeted Israeli diplomats in India and Georgia.
Israel has accused Tehran of being behind all three attacks. Tehran has denied any involvement.
Mr Sedaghatzadeh is suspected of being connected to an explosion at a rented house in central Bangkok. Another bomb carried by one of the suspects accidentally went off as he fled.